THE WORLD'S MOST POPULAR
SIMPLE & CLEAN
PORTABLE TRASH CANS
WE TAKE CARE OF THE TRASH
YOU TAKE CARE OF THE FUN

TAILGATE TESTED TOUGH BY PROS WHO KNOW
The perfect portable trash cans for outdoor activities like tailgating football, soccer, racing, beach, camping and more. Made of lightweight and durable plastic with patented "Magic Spring" Hang N Out® fits snugly and securely over tires of trucks, SUVs, RVs and most cars. Durable connecting point for 30-gallon drawstring trash bags. No tires near the party? No problem. Hang N Out Too attaches to your pop up canopy or vertical post. Both are easy to install and FUN TO USE!

THE BEST OUTDOOR TRASH CANS
ARE
MADE IN AMERICA
Made in America by Americans. Hang N Out® is the perfect accessory for tailgating at any sporting event, camping or your next outdoor adventure.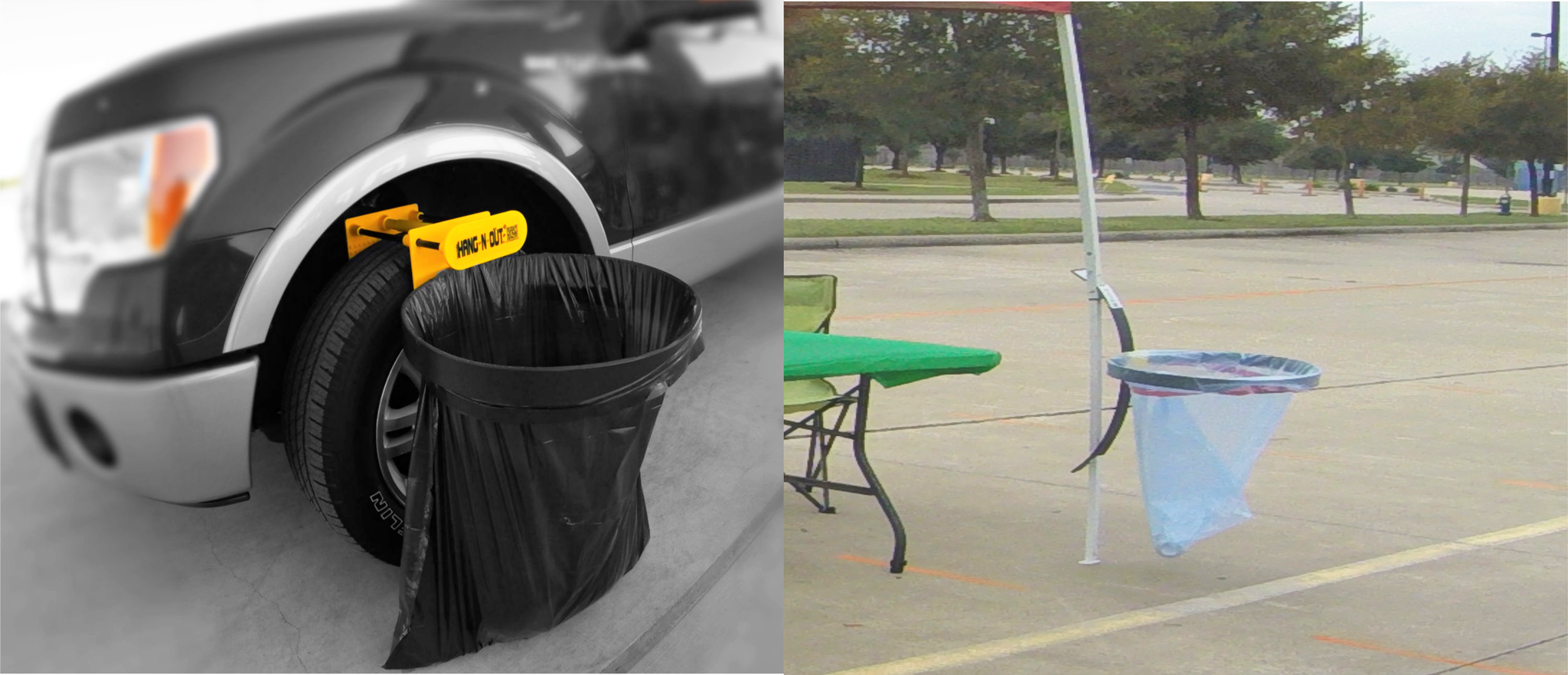 A Trash Bag Holder In Its Own Class!
Simply slip a trash bag over the hoop and trash stays in the bag for easy clean up at your event or party. Works great in any weather. Hang N Out® will manage the trash so you don't have to!
It's A Portable Camping Trash Can!
Lightweight, durable and easy to use. Quickly slides over your car, truck, RV's tires or posts, camping stakes, etc. Keep trash in the bag and out of the scenery you're trying to enjoy. Get Hang N Out® for your next outdoor adventure.
Portable Trash Bag Holders With Style!
Stylish and clean waste management anywhere you need it. Bags stay open and ready for action, near the crowd but not too close. Finally, there's a trash management product that works with you to help keep nature beautiful!
We know you'll love Hang N Out® as much as we do. In fact, if for any reason, within 30 days of purchase, you're not completely satisfied with your product due to manufacturing defect we'll replace that product or issue a full refund. Additional shipping may apply.
That's Ingenious!
-Amber Cox
VP/Chief Marketing Officer Houston Dynamo