1st of its kind, over-the-tire trash bag holder for tailgating, camping, beach or any outdoor event. The perfect trashcan for RV's, Trucks or Cars, specifically designed for outdoor events like camping, concerts and tailgating events. Lightweight and durable plastic with extension spring fits snugly and securely over tires of trucks, SUVs, RVs and most cars. Durable connecting point for 30-gallon bag holder. Easy to install and use. Venues for Hang N Out® include football, soccer, racing, beach, camping, mobile food trucks and more.

THE BEST CAMPING TRASH CAN
IS
MADE IN AMERICA
Made in America by Americans. Hang N Out® is the perfect accessory for tailgating at any sporting event, camping or your next outdoor adventure.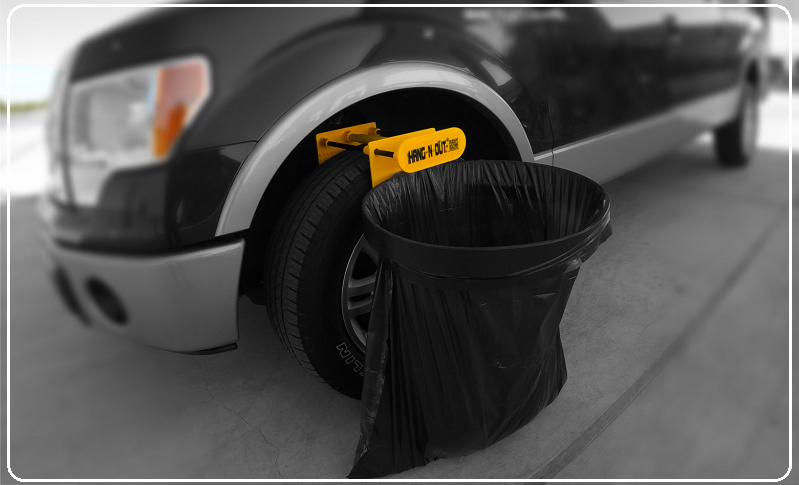 That's Ingenious!
-Amber Cox
VP/Chief Marketing Officer Houston Dynamo
We know you'll love Hang N Out® as much as we do. In fact, if for any reason, within 30 days of purchase, you're not completely satisfied with your product due to manufacturing defect we'll replace that product or issue a full refund. Additional shipping may apply.
It's A Trash Bag Holder In It's Own Class!
It can hold a ton of trash anywhere you need it. Simply slip a garbage bag into the ring and it holds all your trash for easy clean up at your events. HangNout will manage the trash so you don't have to!
It's A Portable Camping Trash Can!
Light weight and easy to use. It can clamp on to your car, truck or RV's tires as well as posts, camping stakes, etc.  Keep your trash where it is should to be! In your easy to use portable camping trash can. Don't spoil nature with stinky trash. Get HangNout for your outdoor adventures.
A Garbage Bag Holder With Style!
So easy to use and stays out of the way, except when you need it. Keeping your tailgate party, camping adventure, or boating trashcan out of the way. A trash management system that works with you. Keep nature beautiful with this outdoors trash can.
Bonus - While Supplies Last!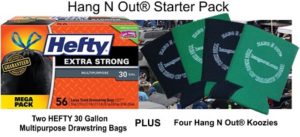 For a limited time and while supplies last, when you order Hang N Out® you will receive, with your patented trash bag holder, two Hefty 30 Gallon Multipurpose Drawstring Bags (The recommended trash bag for Hang N Out® products) and two (2) Official Hang N Out® Koozies!
Save