The Best Portable Trash Cans For Outdoor Events
Currently, campers and tailgaters lug around a trash can, tie trash bags to door handles or simply toss bags to the ground. With Hang N Out® bags are placed close to the crowd, but not too close, keeping bags open and ready for action. Current collection methods are inconvenient, unpleasant and difficult to manage. Hang N Out® keeps trash in the bag and out of the scenery you're trying to enjoy.
"Keeping The Field Green And The Race Track Clean"

Hang N Out®
Simply compress the base, place over a tire and release. Place your 30 gallon drawstring bag over the hoop and connect to the base.
Hang N Out Too
Place the lower bracket notch over your canopy leg or vertical post and then bend the top notch over. The bracket locks itself in place. The heavier the load, the more it hangs on!
Check out our "How To" videos!
"Take Them Wherever You're, Hang N Out"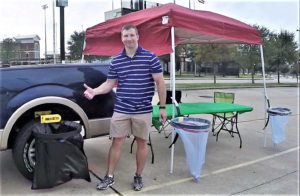 We want to thank these great Houston area companies for being members of "Team Hang N Out"
Delivering premiere products built in the USA
Proud sponsor and partner with these great organizations out in the Tailgating Lot